UNIQUE
EXPERIENCES
in the heart of the Pyrenees
Welcome to Hotel Mauberme
UNIQUE EXPERIENCES IN THE HEART OF THE PYRENEES
The Hotel Mauberme – Mountain Boutique Hotel – is a small and exclusive hotel with 11 rooms – 9 double rooms and 2 suites – spacious, well cared for and decorated in detail. Modern and comfortable, it combines luxury and functionality; located in Salardú, 4 kilometres from Baqueira. It is a unique place with a welcoming atmosphere and a family treatment that brings together all the essence of the Val d'Aran in wonderful facilities to relax, enjoy nature, the landscape and your favourite activities and sports.
The mountain holidays are a source of unforgettable experiences to enjoy as a couple, with friends or family, in a safe and exclusive environment.
We invite you to enjoy to the fullest at the Mountain Boutique Hotel Mauberme in all seasons of the year!
Hotel Mauberme has 11 double rooms and 8 suites with double beds. All rooms are very comfortable, with wooden ceilings and underfloor heating, full bathroom with bathrobe service and amenities, coffee and tea service, wifi, telephone and TV. The bedding is 400 gr2 Egyptian white cotton, the towels and bathrobes are also of the highest quality to enjoy the rest.
Most of our rooms have incredible views of the Val d'Aran and its impressive mountains, and some have a terrace.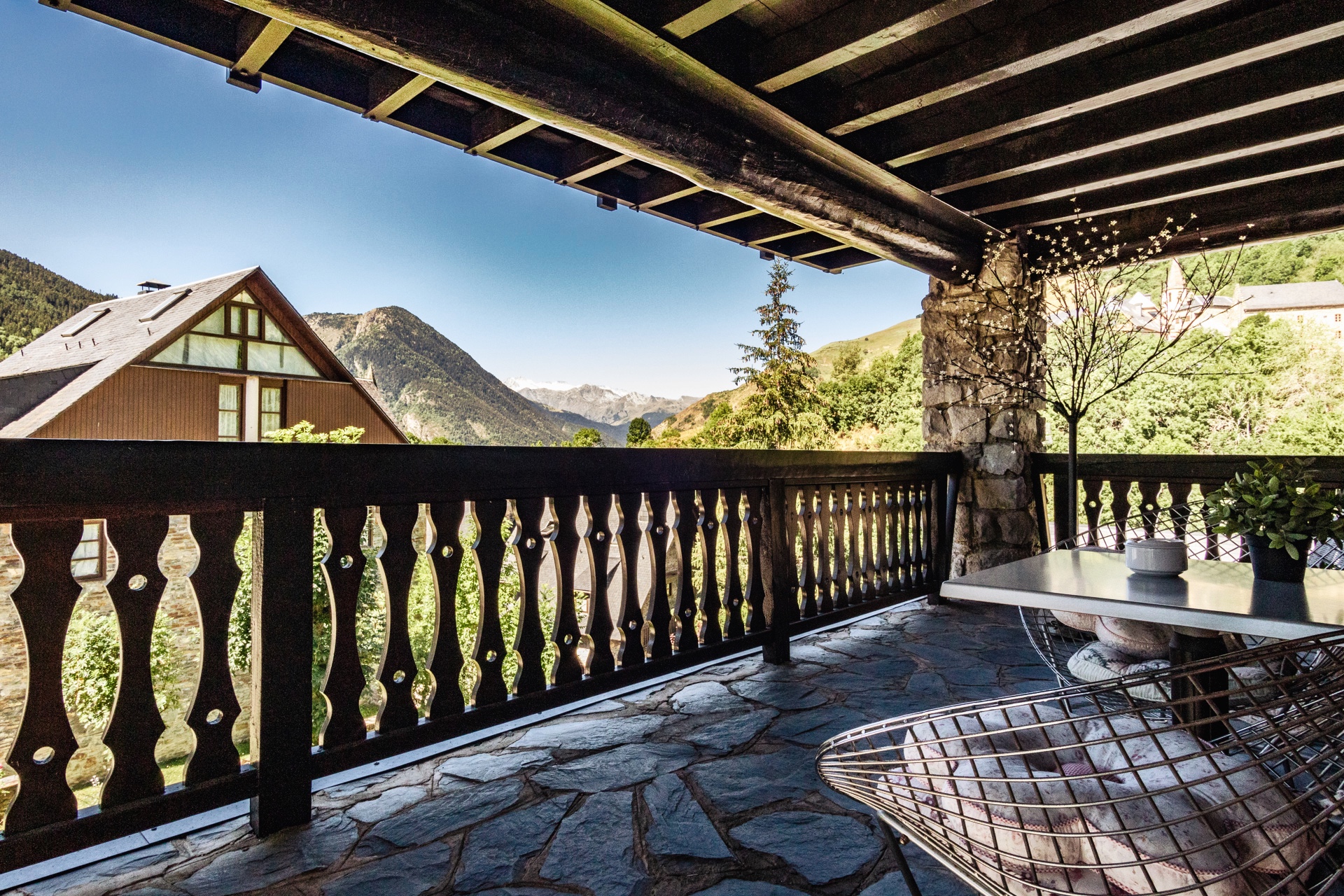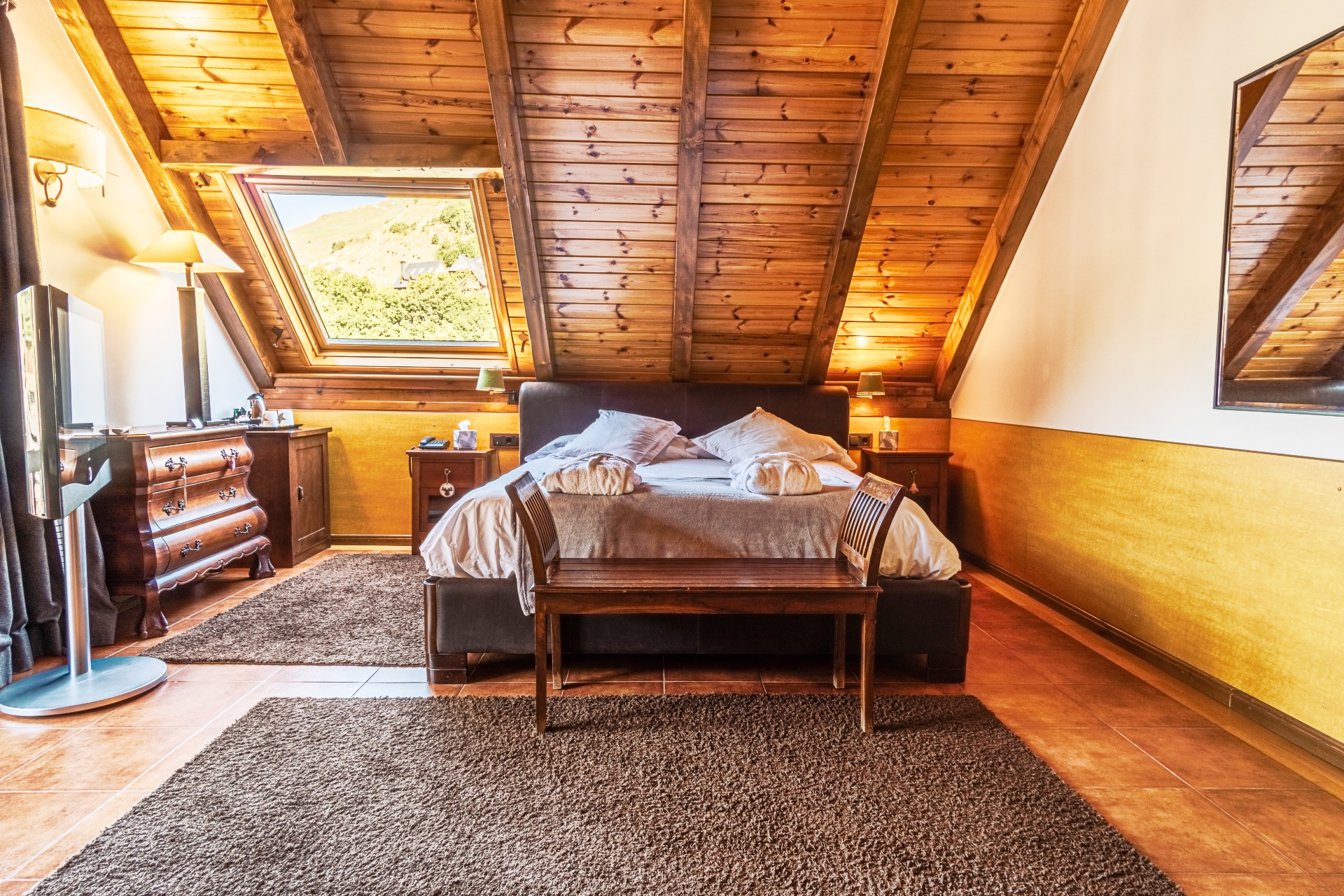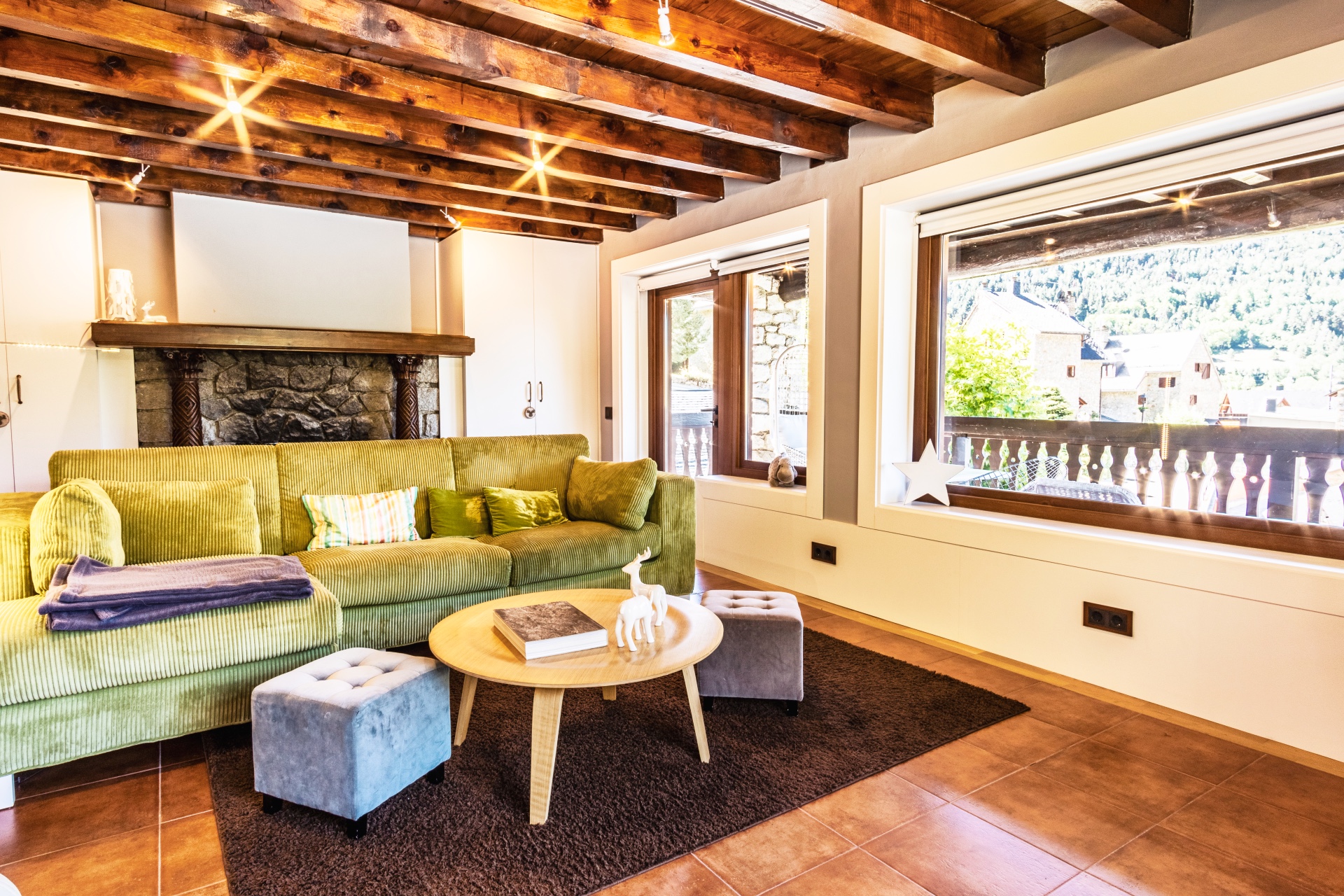 If you have any questions or queries, write to us.

Estancia perfecta en el Hotel Mauberme, con ganas de volver! Instalaciones muy bonitas y acogedoras. Desayuno excelente con productos de la zona, zumo natural y tartas caseras. Gisel, Diego y Evelyn encantadores, te hacen sentir muy bien. Situacion perfecta. Sin duda repetiremos! Nuestro hotelito en el Valle de Aran! Esther

Puente de Diciembre excepcional Hemos disfrutado de unos fantásticos dias de estancia en el hotel. La amabilidad de Gise y Diego es excepcional, haciendo de la estancia una experiencia perfecta en su pequeño hotel lleno de detalles. Es 100% recomendable! Volveremos!
Tesoro escondido en el valle Lo encontramos por casualidad, siendo un hotel boutique pequeño donde los dueños Gisselle y Diego miman cada detalle para que te sientas como en casa, sin olvidar los mejores desayunos preparados por Evelyn. Además, son unos fantásticos conocedores Del Valle que te recomiendan las mejores actividades que se pueden hacer. Sin lugar a dudas muy recomendable!!. Elena y Miguel

ESPECTACULAR ELECCIÓN EN BAQUEIRA! Elegimos el hotel Mauberne para pasar unos días esquiando en Baqueira, por sus fotos y sus excelentes comentarios y he de decir que nuestras expectativas se han cumplido con creces. El hotel es sencillamente espectacular! Empezando por la acogida de sus responsables ( Diego y Giselle) que nos proporcionaron un trato absolutamente perfecto, haciéndo que nos sintiésemos como en casa. El hotel está situado en un un pueblecíto idílico de montaña muy próximo a las fabulosas pistas de ski de Baqueira. La recepción y el salón principal están decorados con un estilo que trasladan un ambiente cálido y familiar y ahí están siempre Diego y Giselle dispuestos a ofrecerte un buen te o una buena cerveza después de una intensa jornada de ski. Además no dudéis en preguntar Diego cualquier duda sobre vuestro plan de ski. Siempre estará dispuesto a darte buenos consejos ya que conoce la estación como la palma de su mano. Además nos gestionó el alquiler de todo el material así como las clases de ski de nuestros d 2 hijos pequeños y todo salió perfecto! Las habitaciones son muy acogedoras y las vistas son increíbles. En fin, sólo decir que han sido 5 días maravillosos y sin duda repetiremos...

Excelente Estuvimos cinco noches en este hotel y fue una experiencia excelente. Es acogedor y está muy bien ubicado. Cama cómodo. Buenas vistas. Diego y Giselle nos hicieron sentir como en casa. Volveremos seguro!

Fantastic We just had 3 nights in Salardu and the hotel Mauberne was fantastic. Great location and the staff were so friendly and helpful. Breakfast was excellent, rooms Very comfortable and lovely area to sit and have a drink in the evening. Would highly recommend.

Empfehlung !! Das Haus ist ein Garni Hotel. Das Zimmer war sehr gemütlich - mit Balkon mit Möglichkeit zum Draußen sitzen. Im Gastro Bereich im Erdgeschoss gab es gemütliche Sofas. Die Ausstattung genießt eine geschmackliche individuelle Note - so bspw. die Dusche aus Holz (megageil). Unterstellplätze für unsere Motorräder waren ebenfalls vorhanden. Das Frühstück war super, vom Rührei mit Jalapenos, Wurst, Käse, Kuchen bis hin zu lokale Produkten war alles da. Die Gastgeberin war sehr freundlich und hilfsbereit - sie gab uns einige Restaurant-Tipps. Ob wir wiederkommen würden, wenn wir wieder in der Nähe sind: Auf jeden Fall.
INSUPERABLE Acabamos de dejar el Hotelito y es como si dejásemos algo de nosotros allí. Un año más nos hemos sentido mejor que en casa gracias a Montse, Evelyn y por supuesto las magníficas instalaciones: habitaciones, salón de relax y lectura, y .... el fantástico desayuno. Lo mejor de todo lo buenísimo.... la simpatía y amabilidad de Montse y Evelyn 🙂 Muchas gracias y hasta la próxima!!!

end of season skiing 2018 season for skiing has been extended till end of april. Baqueira beret with 3m of snow really is Worth a look. and even more reason to stay at the Mauberme, quiet and easily accessible from Viehla. The staff and owner are perfect in their approach to Customer care and the atmosphere is serene for those needing peace and quiet in the evening. highly recommended. tom and june

Espectacular Un lugar bonito, agradable, acogedor y con un trato excepcional. Si vas a visitar la Vall d'Aran en el Hotel Mauberme has de pernoctar. Sus habitaciones son super confortables y tanto Montse como Vicens te aran sentir como en casa.

Very good

Un refugio encantador y familiar ☺El estilo de hotel boutique, pequeño, de madera, como una casita de montaña con encanto, ambiente familiar y muy acogedor… En definitiva, un trato tan cercano que te sientes como en casa… sírvete una copita de vino tu mismo al caer la tarde y anótalo en la libreta… un lujo! ☹Demasiaaasaado calor en la habitación! un suelo radiante que calentaba tantísimo que aun teniendo el termostato apagado, tuvimos que abrir las ventanas varias veces de madrugada para refrescar y poder dormir.

Exceptional

Superb

estupendo todo perfecto ☺todo increible

It's a great option for stay in case you come to Baquiera to ski. The hotel is very cozy and located in very nice villag ☺ Great location, very friendly owners and cozy interior. ☹ Everything was great!

Superb

Superb

Hotel con mucho encanto. ☺El hotel es muy agradable y familiar. Los dueños y el personal son encantadores y muy atentos. El desayuno muy bueno. Estuvimos muy a gusto. ☹Es un poco caro para ser solo alojamiento y desayuno.

Repetiremos seguro. ☺Fabuloso trato y cercanía de los dueños, ambiente familiar, mucho gusto en la decoración, desayuno excelente… ☹Muchísimo calor en la habitación, tuvimos que dejar la ventana abierta todo el rato y ni siquiera así. Tan pronto lo comunicamos a los dueños llamaron al técnico y algo mejoró.