UNIQUE
EXPERIENCES
in the heart of the Pyrenees
Welcome to Hotel Mauberme
UNIQUE EXPERIENCES IN THE HEART OF THE PYRENEES
The Hotel Mauberme – Mountain Boutique Hotel – is a small and exclusive hotel with 11 rooms – 9 double rooms and 2 suites – spacious, well cared for and decorated in detail. Modern and comfortable, it combines luxury and functionality; located in Salardú, 4 kilometres from Baqueira. It is a unique place with a welcoming atmosphere and a family treatment that brings together all the essence of the Val d'Aran in wonderful facilities to relax, enjoy nature, the landscape and your favourite activities and sports.
The mountain holidays are a source of unforgettable experiences to enjoy as a couple, with friends or family, in a safe and exclusive environment.
We invite you to enjoy to the fullest at the Mountain Boutique Hotel Mauberme in all seasons of the year!
The Mauberme Hotel has 11 double rooms and 4 suites with double beds. All rooms are very comfortable, with wooden ceilings and underfloor heating, full bathroom with bathrobe service and amenities, coffee and tea service, wifi, telephone and TV. The bedding is 400 gr2 Egyptian white cotton, the towels and bathrobes are also of the highest quality to enjoy the rest.
Most of our rooms have incredible views of the Val d'Aran and its impressive mountains, and some have a terrace.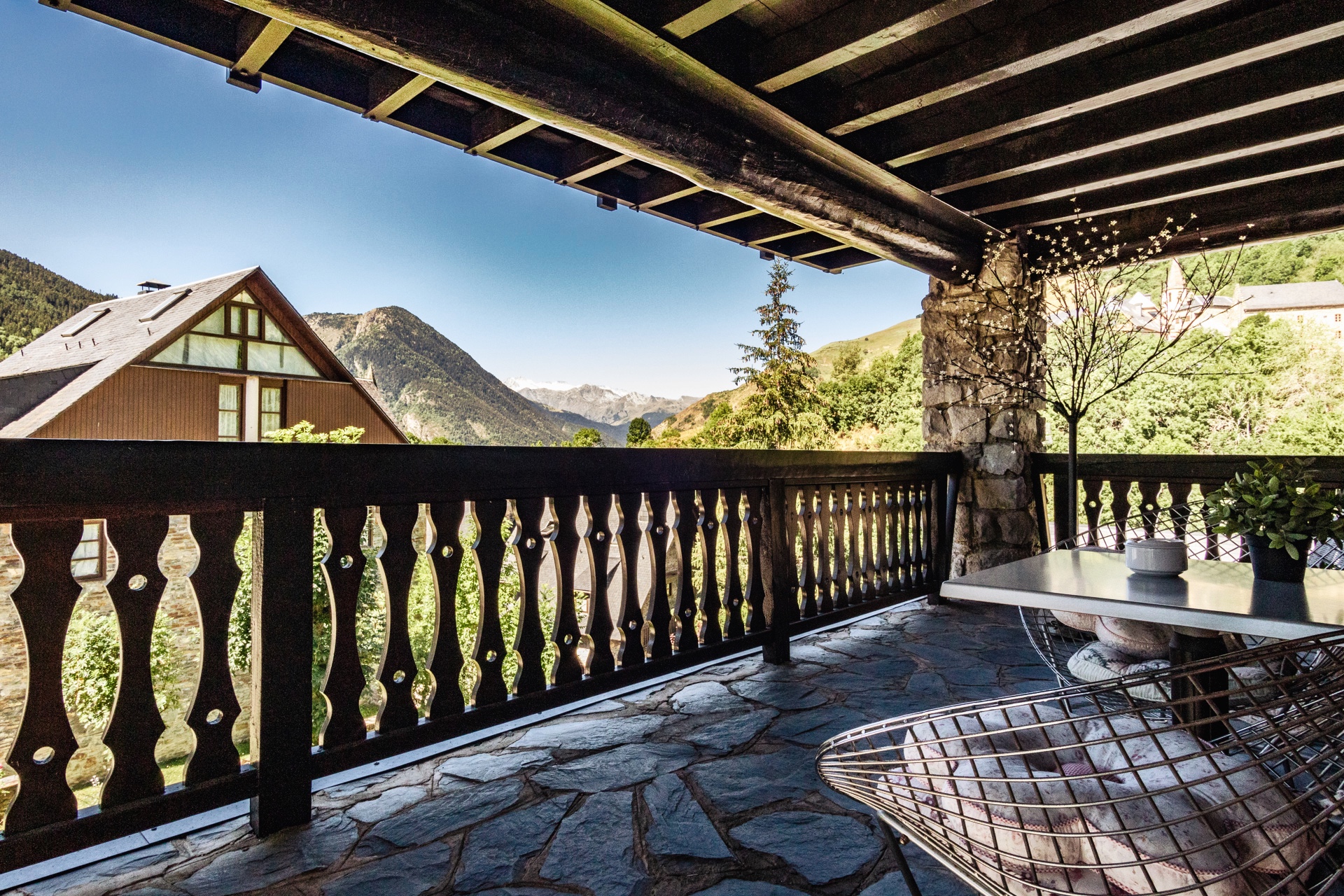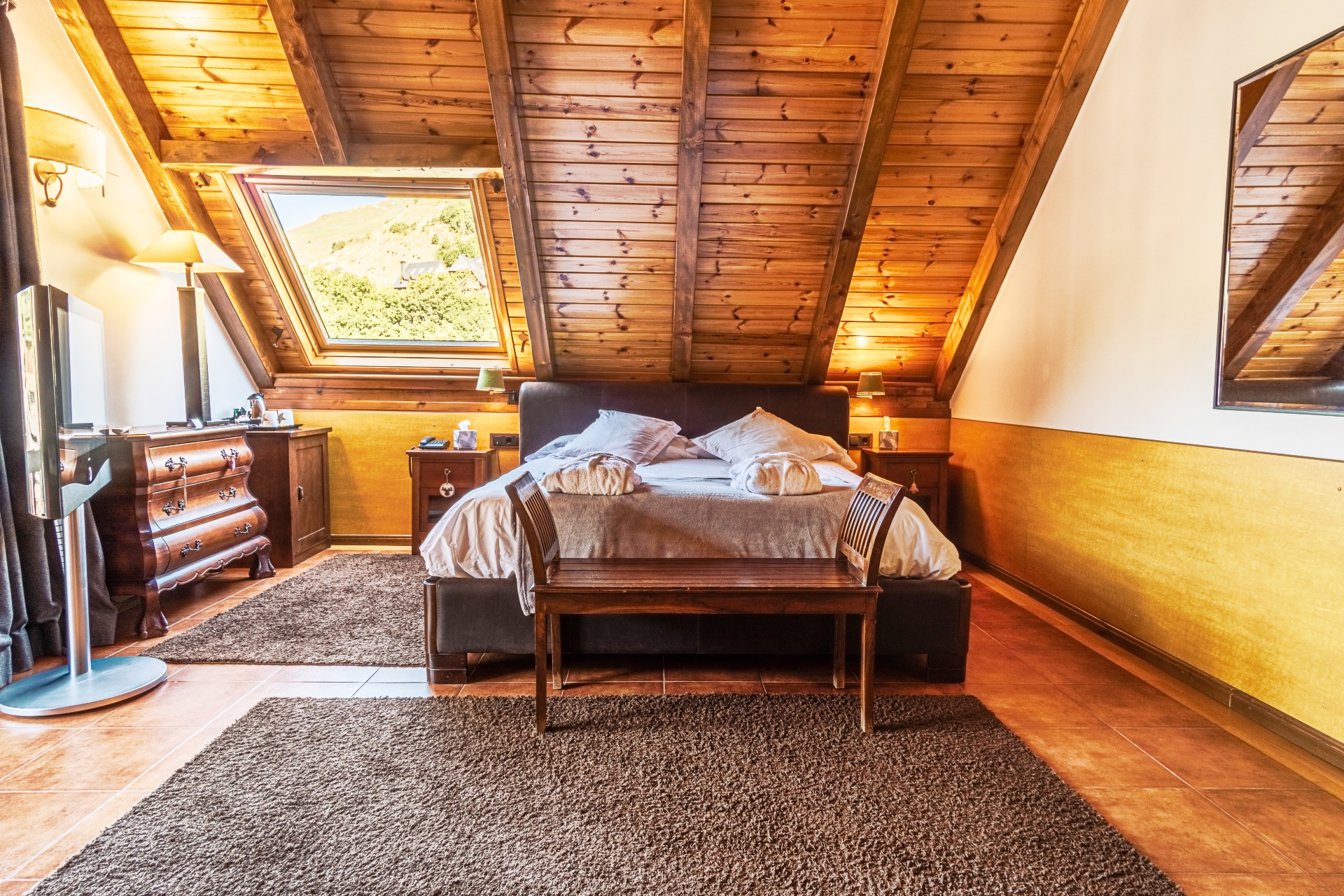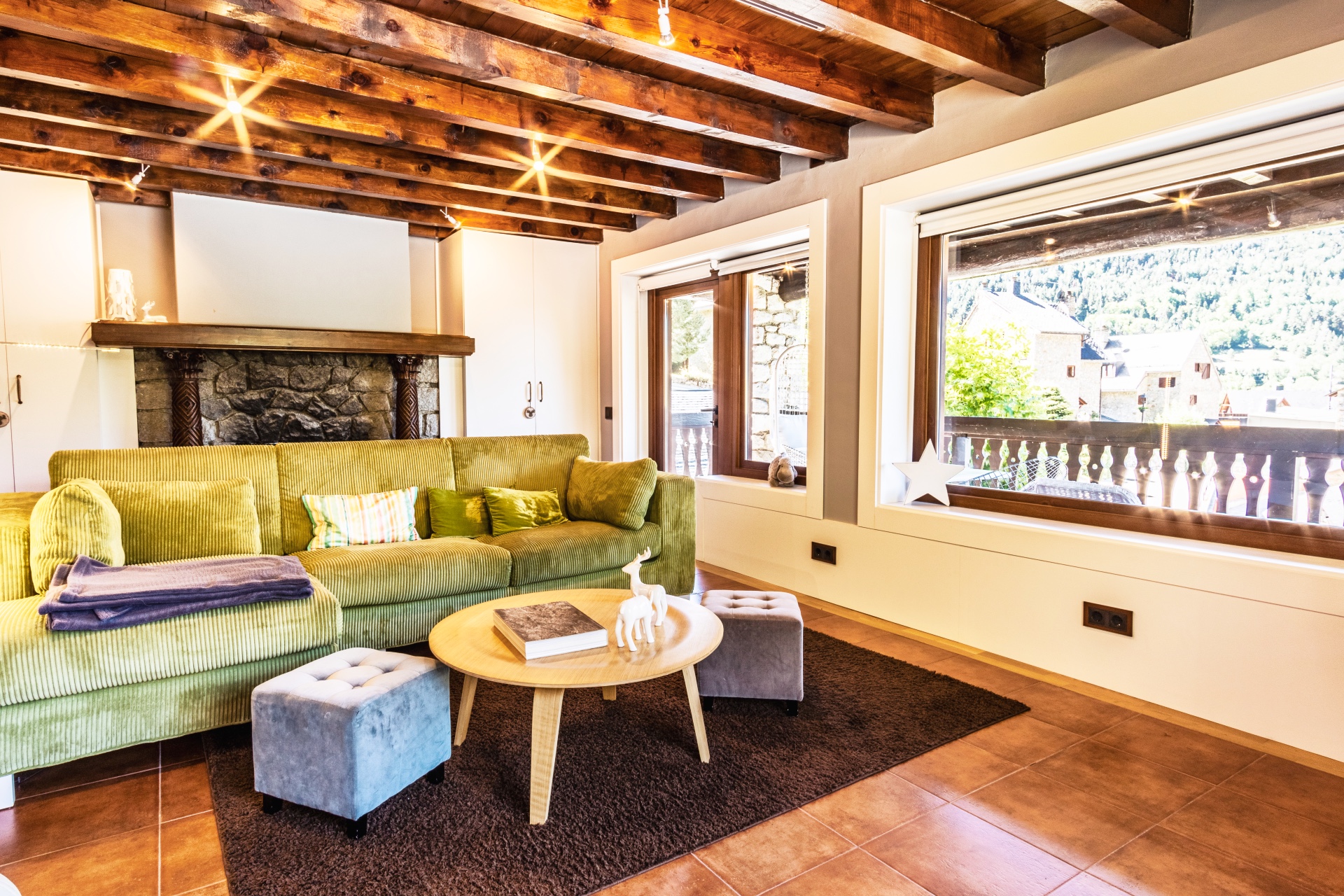 If you have any questions or queries, write to us.

Verificada
sejour trés agréable Hotel bien situé pas de route bruyante, juste le chuchotement de la rivière avec la fenêtre ouverte. Vu de la chambre agréable, place parking. Le personnel et accueil parfait, petit déjeuner extra, décoration soignée. Literie confortable. Seul bémol, le lambris dans la baignoire pas top !

TheWholeTruthES
29/07/2022
Verificada
Excellent choice and service I enjoyed my stay in this hotel. As always ( I had stayed here before) the owners are a charming couple, dedicated to their clients. This time I had a smallish room in the lower floor, which I understand is completely new, and it shows. Bathroom and overall setup is modern and efficient and the room is quiet in general, even though you can hear neighbors so the walls are thin. The hotel itself is in an excellent situation for any water or summer sports, and easy access to facilities and restaurants and local markets. The hotel has adequate storing facilities for ski equipment, bikes etc. Their is limited parking on the premises and a big municipal parking facility 5 mn walk downhill. The breakfast buffet is also excellent in quality, with plenty of homemade offerings as well as the usual bakery fare. The lounge and the self-serving bar, based upon a system of trust, is a well stocked option for an afternoon drink or a stronger nightcap. Overall a highly recommend option in the Val d´Aran.

Verificada
Buen hotel. Buen hotel. Ratifico las opiniones anteriores. Es un establecimiento pequeño, con pocas habitaciones, pero muy amplio y bien decorado. La habitación super cómoda y se duerme muy bien. Parking excelente en la misma puerta. Para repetir sin duda.
Verificada
Exelente hotel, trato y ubicación Nos alojamos en este hotel en octubre de 2015, pero no había escrito nada sobre él. Aunque hace tiempo de la reserva aún recuerdo la excelente amabilidad con que nos trataron, el hotel decorado con mucho gusto, las habitaciones cómodas y confortables y la magnífica ubicación, perfecta para disfrutar de su entorno. Lo he recomendado a todos mis conocidos.

Verificada
Estancia perfecta en el Hotel Mauberme, con ganas de volver! Instalaciones muy bonitas y acogedoras. Desayuno excelente con productos de la zona, zumo natural y tartas caseras. Gisel, Diego y Evelyn encantadores, te hacen sentir muy bien. Situacion perfecta. Sin duda repetiremos! Nuestro hotelito en el Valle de Aran! Esther

Verificada
Puente de Diciembre excepcional Hemos disfrutado de unos fantásticos dias de estancia en el hotel. La amabilidad de Gise y Diego es excepcional, haciendo de la estancia una experiencia perfecta en su pequeño hotel lleno de detalles. Es 100% recomendable! Volveremos!
Verificada
Tesoro escondido en el valle Lo encontramos por casualidad, siendo un hotel boutique pequeño donde los dueños Gisselle y Diego miman cada detalle para que te sientas como en casa, sin olvidar los mejores desayunos preparados por Evelyn. Además, son unos fantásticos conocedores Del Valle que te recomiendan las mejores actividades que se pueden hacer. Sin lugar a dudas muy recomendable!!. Elena y Miguel

Verificada
ESPECTACULAR ELECCIÓN EN BAQUEIRA! Elegimos el hotel Mauberne para pasar unos días esquiando en Baqueira, por sus fotos y sus excelentes comentarios y he de decir que nuestras expectativas se han cumplido con creces. El hotel es sencillamente espectacular! Empezando por la acogida de sus responsables ( Diego y Giselle) que nos proporcionaron un trato absolutamente perfecto, haciéndo que nos sintiésemos como en casa. El hotel está situado en un un pueblecíto idílico de montaña muy próximo a las fabulosas pistas de ski de Baqueira. La recepción y el salón principal están decorados con un estilo que trasladan un ambiente cálido y familiar y ahí están siempre Diego y Giselle dispuestos a ofrecerte un buen te o una buena cerveza después de una intensa jornada de ski. Además no dudéis en preguntar Diego cualquier duda sobre vuestro plan de ski. Siempre estará dispuesto a darte buenos consejos ya que conoce la estación como la palma de su mano. Además nos gestionó el alquiler de todo el material así como las clases de ski de nuestros d 2 hijos pequeños y todo salió perfecto! Las habitaciones son muy acogedoras y las vistas son increíbles. En fin, sólo decir que han sido 5 días maravillosos y sin duda repetiremos...

Verificada
Excelente Estuvimos cinco noches en este hotel y fue una experiencia excelente. Es acogedor y está muy bien ubicado. Cama cómodo. Buenas vistas. Diego y Giselle nos hicieron sentir como en casa. Volveremos seguro!

Verificada
Fantastic We just had 3 nights in Salardu and the hotel Mauberne was fantastic. Great location and the staff were so friendly and helpful. Breakfast was excellent, rooms Very comfortable and lovely area to sit and have a drink in the evening. Would highly recommend.

Verificada
Wonderful

Verificada
☺El tracte familiar
Verificada
Perfecte!

Verificada
☺Frühstück super. Nur wenige Schriite zum Ort. Sehr freundliche Gastgeber.

Verificada
Wonderful

Verificada
Te sientes como en casa y tiene unas vistas maravillosas ☺es muy familiar ☹nos gusto todo

Verificada
Días inesperados!!!

Verificada
molt agradable ☺neteja, atencio del personal i l'esmorzar
Verificada
Gran estancia en el valle de Arán ☺Todo. La habitación con unas vistas increíbles,el hotel es chulísimo y tiene parking. El desayuno tiene productos caseros y de calidad . Y da gusto estar allí , lo regentan un matrimonio super simpáticos y majisimos que dan recomendaciones estupendas tanto restaurantes como q visitar . Todo perfecto, lo recomiendo . No me extraña que tenga está nota en Booking. Y no olvidarme de la cocinera que además de muy simpática hacia un café y unos huevos deliciosos ☹Nada.
Verificada
Wonderful